Game Description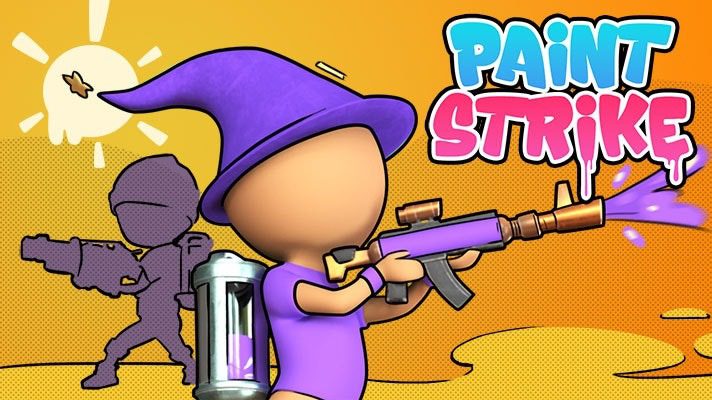 Dive into the vivid world of Paint Strike, where strategic brilliance meets explosive paintball action. In this unique shooter experience, players engage in exhilarating battles across dynamic arenas filled with vibrant hues. The game combines fast-paced combat with creative mayhem, offering an exciting twist on traditional shooters.
Game Controls
Navigate the color-soaked battlefield with precision using these essential controls:
Movement: Arrow keys or on-screen controls for swift and agile maneuvering.
Fire Away: Mouse or touchscreen to unleash a barrage of colorful paintballs upon opponents.
Reload: Strategically reload during downtime to ensure you're always locked and loaded.
How to Play Paint Strike
Master the art of paintball warfare with these strategic insights:
Cover and Conquer: Utilize the environment for cover, avoiding enemy paint while strategically advancing.
Teamwork Triumphs: Communicate with teammates for coordinated assaults, dominating key areas for victory.
Precision Shots: Hone your aim for accurate paintball strikes, marking opponents and claiming territory.
Power Up Your Arsenal: Seek out and strategically use power-ups scattered across the battlefield for added advantages.
Map Mastery: Know the ins and outs of the map to predict enemy movements and control critical points.
Tips and Tricks
Boost your paintball prowess with these insider tips:
Ammo Management: Conserve paintballs for crucial moments, avoiding unnecessary reloads.
Flank and Spank: Surprise enemies with flanking maneuvers, gaining the upper hand with strategic positioning.
Predictive Play: Study opponent patterns to anticipate movements, gaining a tactical edge.
Adapt or Die: Quickly adjust your strategy to the evolving dynamics of the paintball arena.
Objective-Oriented: Prioritize objectives—whether it's covering ground or securing areas—for the team's triumph.
Game Developer
The brilliance behind Paint Strike comes from a dedicated development team committed to delivering an immersive and visually captivating paintball experience. Their passion for creating a challenging and entertaining environment shines through in every paint-splattered match.
Game Platforms
Embark on your paintball adventure across diverse platforms:
Web Browser: Instantly access the vibrant world of Paint Strike directly from your browser for quick and colorful gameplay.
Mobile Platforms: Carry the paintball excitement wherever you go, with versions available for both iOS and Android devices.
How to Play Unblocked
Ensure uninterrupted paintball fun with these unblocking strategies:
VPN Magic: Employ a Virtual Private Network to overcome restrictions and enjoy unrestricted access to Paint Strike.
Proxy Prowess: Conceal your location using reliable proxy servers for a seamless and unblocked gaming experience.
Browser Extension Bonus: Enhance your unblocking journey with dedicated browser extensions designed for gaming enthusiasts.
Prepare for a paint-soaked adventure, outsmart your opponents, and paint your way to victory in Paint Strike. Immerse yourself in the vibrant chaos, adapt to the colorful mayhem, and emerge as the paintball champion of this dynamic world.