Game Description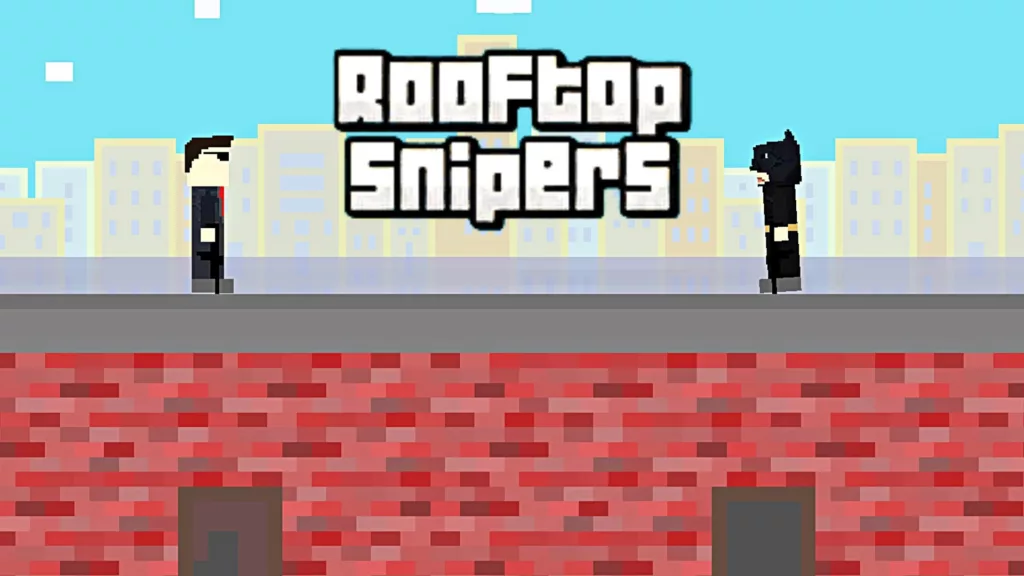 Rooftop Snipers is an exhilarating 2-player shooting game that plunges you and a friend into intense sniper duels perched on the precipitous edges of towering buildings. Your mission is straightforward: eliminate your opponent before they eliminate you. With its straightforward yet addictive gameplay, this unblocked game guarantees hours of competitive fun.
Game Controls
Before you step onto the rooftop battlefield, it's essential to acquaint yourself with the game controls:
Player 1:

Move: "E" key
Jump: "W" key
Shoot: "Q" key

Player 2:

Move: Left arrow key
Jump: Up arrow key
Shoot: Spacebar
How to Play
Engaging in sniper duels high above the city in Rooftop Snipers is a breeze. Here's a step-by-step guide to get you started:
Character Selection: Both Player 1 and Player 2 must choose their characters, each with unique and quirky styles.
Rooftop Showdown: As the game begins, you and your opponent will appear on a rooftop. Your objective is straightforward: eliminate your adversary with your sniper rifle.
Aim and Fire: Utilize the controls mentioned earlier for movement, jumping, and shooting. Take precise aim and time your shots to hit your opponent. One well-placed shot secures victory in a round.
Round Wins: Accumulate wins across multiple rounds to achieve overall victory. Rounds are swift, enabling numerous matches in quick succession.
Tips and Tricks
To ascend as a rooftop sniper champion, consider these strategic pointers:
Jump Timing: Perfecting your jump timing is crucial. A well-timed leap can make you a more elusive target and help you evade incoming fire.
Precision in Aiming: Take your time to line up your shots. A precisely aimed bullet has a better chance of hitting its mark. Don't waste your limited ammunition.
Environmental Awareness: The game's rooftop settings include obstacles and hazards. Use them to your advantage, but be cautious not to plummet off the edge.
Psychological Warfare: Unpredictable movements can unsettle your opponent's aim. Keep them guessing with your agility and unpredictability.
Game Developer
Rooftop Snipers is developed by Michael Eichler, a game developer known for creating various entertaining browser games.
Game Platforms
Download the game on iOS and Android devices to play on the go.
How to Play Unblocked
Accessing Rooftop Snipers without restrictions is straightforward. It's often hosted on websites offering unblocked games. Seek out reliable sources that provide the game without hindrances, enabling you to engage in fast-paced and competitive sniper duels, whether against a friend or the computer.
In summary, Rooftop Snipers is a fast-paced and enjoyable game that tests your sniper skills. Whether you're challenging a friend or an AI opponent, the game's straightforward yet addictive nature promises hours of entertainment.